TOM ATKINS as The Chief – (My Bloody Valentine, Lethal Weapon) IMDB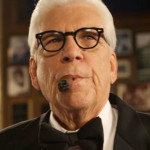 Handsome, rugged, versatile and charismatic character actor Tom Atkins was born on November 13, 1935 in Pittsburgh, Pennsylvania. Atkins initially became an avid horror film fan in his childhood days; Howard Hawks' immortal classic "The Thing from Another World" made an especially strong impression on him as a kid. Tom attended Duquesne University in Pittsburgh and was a member of the Gamma Phi Fraternity. Atkins made his film debut as a rookie cop in the Frank Sinatra private eye outing "The Detective;" it was the first of many police officer roles he's played throughout the years. Tom appeared in two pictures for director John Carpenter: he's very likable as Nick Castle in the spooky "The Fog" and solid as Rehme in the fantastic futuristic sci-fi/action cult gem "Escape from New York." Atkins had a nice small role as a disapproving and overbearing jerk father in the wrap-around segments of the immensely enjoyable fright feature anthology "Creepshow." He made for a touchingly flawed hero as Dr. Daniel Challis in the unjustly maligned "Halloween III: Season of the Witch." Tom gave a smack dead on the money terrific performance as weary, cynical and suicidal Detective Ray Cameron in the delightful "Night of the Creeps" (this movie is Tom's personal favorite among all the horror pictures he's acted in). He was once again excellent as the similarly burnt-out Lt. Frank McCrae in the fine "Maniac Cop" and impressive as guilt-ridden heroin smuggler Michael Hunsaker in the exciting blockbuster "Lethal Weapon." Atkins had a recurring part as Lt. Alex Diehl on the hit TV series "The Rockford Files;" he reprised this character in several spin-off made-for-TV movies. Among the TV shows Tom has done guest spots on are "Oz," "Xena: Warrior Princess," "Walker: Texas Ranger," "The Equalizer," "Spenser: For Hire," "The Fall Guy," "Lou Grant," "Baretta," and "M.A.S.H." Outside of his film and TV work, Atkins has had a long and distinguished stage career. He has acted on Broadway in the plays "The Changing Room" (Tom won a 1973 Drama Desk Aware for Most Promising Performer), "Keep It in the Family," and "The Unknown Soldier and His Wife." His Off- Broadway credits include "Vikings," "Long Days Journey Into Night," "Whistle in the Dark," and "Nobody Hears a Broken Drum." Tom frequently acts in plays held at the Pittsburgh Public Theater; he's garnered plenty of accolades for his outstanding portrayal of Pittsburgh Steelers founder Art Rooney in the acclaimed one-man show "The Chief." Tom Atkins resides in Peters Township, Pennsylvania.
| | | |
| --- | --- | --- |
| PRODUCER | MIKE WITTLIN | |
| DIRECTOR | STEVE "STEVO" PARYS | |
| EXECUTIVE PRODUCERS | THOMAS E. CHAFFEE | |
| | BRUCE KAPLAN | |
| LINE PRODUCER | KATHY OLIVER | |
| WRITTEN BY | GENE COLLIER | bio |
| | ROB ZELLERS | bio |
| DIRECTOR OF PHOTOGRAPHY | JEFF GARTON | |
| MUSIC BY | MATT TAIT | |
| EDITED BY | STEVE HOOVER | |
| | DANNY YOURD | |
Download Running of Credits (PDF)
Gene Collier / Playwright:
Gene has written sports, politics, and media criticism in Pittsburgh and Philadelphia for more than 30 years and has twice been nominated for the Pulitzer Prize, losing spectacularly both times. He has a journalism degree from Penn State. Gene has been a popular guest on area radio stations including the WDVE Radio's Morning Show, delivering his comical views on Pittsburgh and its sports teams. Gene's comedy lampoons family life, media culture, music, sports, and politics.
Gene's writing popularity has led into a secondary career as a stand-up comic, corporate speaker and playwright. Gene is co-author, with Rob Zellers, of the one-man play "The Chief" starring Tom Atkins and based on the life of Arthur J. Rooney. "The Chief" is the most successful production in the distinguished history of the Pittsburgh Public Theatre. Reproduced in print, the book is complemented by photographs of Rooney, his family, and members of the Steelers, along with scenes from the standout performance of actor Tom Atkins, who has embodied the role since the play's inception.
More information about Gene and his upcoming appearances can be found at www.genecollier.com
Rob Zellers / Playwright:
Rob has been the Education Director at Pittsburgh Public Theater for 23 years. He is co-author along with Pittsburgh Post-Gazette columnist Gene Collier of THE CHIEF which premiered at Pittsburgh Public Theater in 2003 under the direction of Ted Pappas starring Tom Atkins and became the most successful box office play in The Public's history. His most recent play, HARRY'S FRIENDLY SERVICE was a winner of an Edgerton Award and debuted at Pittsburgh Public Theater in May of 2009.
Associate Producers:
Mark Christie, President, Mark Christie and Associates
Jane Kaplan & Harry Goldin, M.D.
Joe & Linda Hughes
James & Nancy Cameron
The Binkley Kanavy Group, LLC
Gus Georgiadis, Jim Patton & Jim McTiernan, Triad USA, Inc
The Joseph Family
Vegrin Hightower/Craig Totino, Collaborative Ventures, LLC
Gary & Gigi Colosimo
Ken Jackson
Josh Wilson
Mike Susi
Don Rossi, Jim Rossi & Mike Rossi
Franco Harris